After hearing President Obama's SOTU (State of the Union) address last night, I am reminded of a lesson I gave when I taught high school:
I drew four shapes on the whiteboard. A circle, a square, a triangle, and a rectangle. I then covered up the shapes by sliding the front white board over them.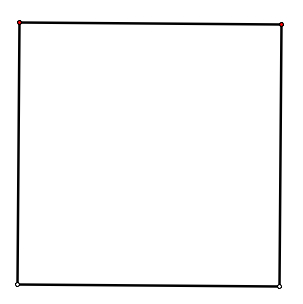 At the beginning of class, I asked one of my students to go to the office and get something for me. As soon as he left (we'll call this student Steve), I slid back the front white board to reveal the four hidden shapes. "Okay, guys," I said, "We're going to try a little experiment later in the class. If I call on you, I need you to call this last shape an oval… not a rectangle. Got it?" A little perplexed, they all agreed. I covered up the shapes again and Steve returned from the office.
Halfway through class, I uncovered the shapes and announced we that were going to have a little pop quiz—"NAME THE SHAPES!" (Oooh, difficult. I know). I called on a Senior football player to go first. He correctly named all the shapes, calling the rectangle an oval (per my request). I then invited a popular, senior cheerleader girl to do the same, which she did. A few kids later, guess who I called on?
"Steve! Why don't you give it a try?" I smiled. Can I just say? I had no idea the pressure I was putting on Steve. You would have thought I just asked him to swim in a pool of piranha. He was terrified. But after some persuasion, he agreed to have a go at it.
"Circle. Square. Triangle." And then a long pause… followed by a tiny, barely audible,
"Oval."
The point: What would make a high school kid, who has known from age two that that shape was a rectangle, go against all logic and reason, and call it an oval? Had that rectangle ceased to be a rectangle because a cute, blond cheerleader called it an oval? Is reality altered simply because certain people refuse to recognize it as so? Does truth bow to the whims of popular opinion? I think you get the point.
On a national stage, can a government continue to ignore its debt, pretending that if it just doesn't recognize it for what it is (a pending crisis of catastrophic proportions), it will magically go away? Does reality cease to be reality all because a handsome, articulate individual (who happens to be POTUS) proposes to defy logic and history by spending/taxing our way back to prosperity? How can politicians believe we can just keep going the way we are, not taking the National debt seriously enough to take drastic steps towards its reduction, and still come out on top?
To me, President Obama's address felt like a continued denial of reality. Deficit Reduction through reduced government spending IS the paramount issue of our day! Period. It is the devastating rectangle of reality for us. Everything else is secondary. It is no longer just "Well, it would be nice to reduce that pesky deficit, but government can't possibly cut this program or do without that entitlement." When will we have a majority of elected officials (including a president) who truly (in ACTION, not just in word) put that as their number one priority?
Are we really going to continue to "spend our way to prosperity" (uh huh… right, Mr. President), just to turn around and pass that crippling burden of debt on to our kids? That is, if its weight hasn't already crushed us.
Shame on us.
Oval, Oval, Oval, Oval, Oval, Oval, Oval…
RECTANGLE!
What do you think?
I love hearing from you!
To prove it and show my love, for the month February, everyone who leaves a comment I will put your name in a hat. If you comment and link back to my blog on your blog, you get your name in the hat twice. If you leave a comment, and link back to my blog, and mention my book What Would the Founding Father's Think in your blog…you get your name in the hat THREE times. What do you win?
I will pick a winner once a month and you can pick one copy in eBook or Print.